FAQ on self lifting stacker
1. Q: "Why this forklift can only handle 500kg? I need to handle heavier loads."
A: Firstly, this forklift is designed for portable use with a van and lorry, so it should be lighter and smaller in size. That is what we made as an improvement on the mast.
Secondly, it is a semi-electric-powered stacker, which also needs manual power to pull and push. A heavier load will request a bigger battery which will go against our portable design.
However, Hyder has been devoted to adjusting and meeting the requirements. Now we have both 500kg and 1000kg ready for your options.
2. Q: " I want to lift higher, can you do that?"
A: Since it is designed to go into a van or lorry, the mast can not be too high. It focuses on climbing the truck not stacking in the truck.
Hyder team is developing a higher mast with a double mast that can lift up to 1.6m for big trucks like container trucks now.
3. Q: How many working hours it can work? I need it to work for 5-6hours, is that possible?
A: Normally, HSLS500 can work for 50times of the loading and unloading process; while the HSLS1000 can work for 30times.
The self-propelled model can work for 50times and 60m travel on the ground with a lithium battery of 48v15ah powered.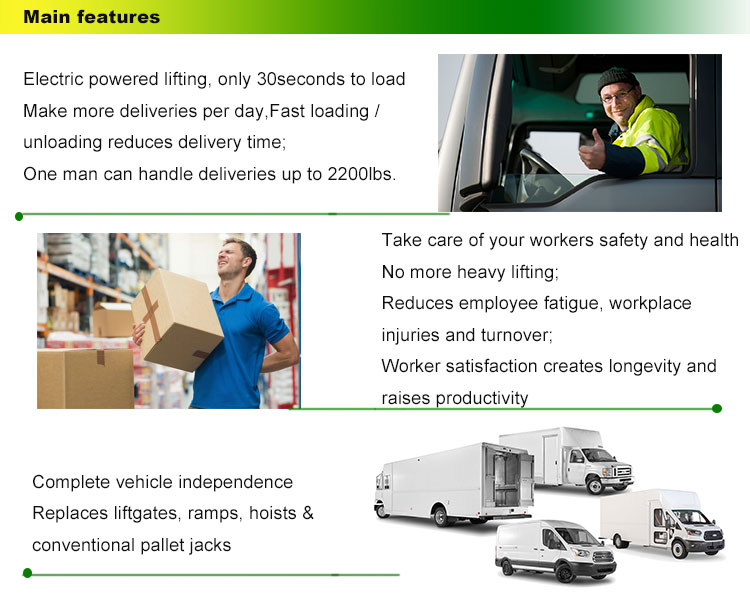 We can change to a bigger battery to prolong the working time. Considering the longer working time will request a larger battery, which means heavier the truck itself. That goes against portable design again.
Everyone would find the right places and shine. The more we need, the more complex and more expensive would that machine be!
We have a lot of ideas, but also we need to consider the practical use and technics. What we can do is to find the balance between idea and reality!